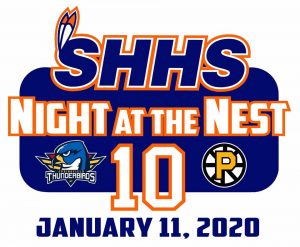 CLICK OR TAP THE LOGO ABOVE TO MAKE YOUR RESERVATIONS!
Or, if you'd prefer download the form to mail in your reservation.
PLEASE NOTE: IF YOU HAVEN'T MADE YOUR RESERVATIONS YET, PLEASE DO IT TODAY! WE HAVE TO SUBMIT OUR ATTENDANCE LIST TO THE EXECUTIVE PERCH ON THURSDAY JANUARY 9TH. WE WILL NOT BE ABLE TO ACCEPT ANY ONLINE RESERVATIONS AFTER THAT.
Night at the Nest 10 is our annual mid-winter event for Members and their guests. Space in the Executive Perch is limited, so don't delay! Reserve your place today!
The Springfield Hockey Heritage Society formed in February of 2010 with the primary purpose of honoring Springfield's ten decades of pro hockey history.
Since then, the Society has become a great resource for former players and officials. Our membership roster consists of NHL veterans, team executives, on ice officials and the fans!
While we've come a long way in these first 9 years, there's much more to do. We are always interested in compiling statistical data and first person stories from any era of Springfield hockey.
Maybe you joined the Society for the social atmosphere. We host a handful of events every year, the biggest of which, Hockeyday in Springfield, annually draws hundreds of people-in the heat of the summer!
Since 2010, this is the third version of the Society website. We're always interested in making the Society accessible to all fans, near and far. There are plans to build on the site from here, so please check back often. At the outset, the site can be used to join the Society, to make your reservations for upcoming events or to contact us.
The Springfield Hockey Heritage Society strives to improve every season. We thank you for your support over the first nine years.